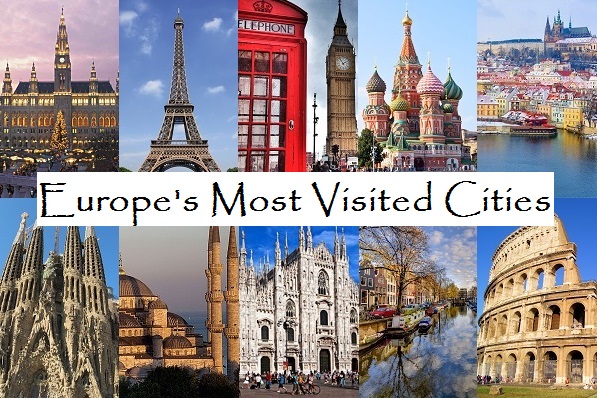 The reasons for travelling to Europe are endless. If culture, history and natural beauty aren't enough, then the cuisine, locals and myriad of must see sights and wonders will be more than enough to please even the most avid traveller.
Europe's snowy mountain peaks, sun-soaked vineyards, cobbled streets and crystal clear waters attract over 460 million people each year. Whether you're sailing around the ancient Greek Islands, browsing the Venetian market stalls or strolling through the streets of ancient Rome, you just can't help but get swept up in the raw beauty and the sheer romance of the place. We did some research and found Europe's most visited cities. We looked at what makes each city unique, why they attract so many international travellers, and why we should all follow suit.
Vienna
Vienna is the capital city of Austria, and its cultural, economic and political centre. The city received 5.1 million international travellers last year. Because of its central location in Europe, the city has always played an important role in every phase of Europe's history. The city is both musically and culturally one of the richest cities in the world. Vienna has been transformed from an old fashioned and somewhat sleepy city, to a lively and bustling modern city, with corner café's and trendy new bars bursting at the seams. Two of history's most famous composers, Ludwig von Beethoven and Wolfgang Amadeus Mozart, called Vienna home for most of their lives. Vienna is starting to rediscover its joie de vivre.
Attractions: Wiener Rathaus, St Stephen's Cathedral, the Spanish Riding School, Graben, Burggarden, Belvedere Conference, Hofburg Imperial Palace and the huge 1,441 room Schönbrunn Palace.
Why go: Vienna has been nick named the "New Old City", because it is where the old imperial world and the new contemporary world meet. The city's major attractions are all located within, or close to, the historic city centre. The historic city centre of Vienna was named a UNESCO World Heritage Site in 2001, and it has since been pedestrianized. This means that the area is largely car free, which makes it easy to explore by foot. Virtually every major attraction, from the Hofburg Palace, the Spanish Riding School, which is home to the white Lipizzaner stallions, and St Stephen's Cathedral are all within walking distance from each other. Vienna is also the home of the Wiener schnitzel- the Figlmüller restaurant is where you will get the best Weiner schnitzel in the world. Vienna offers travellers good food, stunning architecture, great music and a rich culture, what's not to like?
Amsterdam
Amsterdam is one of Europe's most cosmopolitan cities. The city has many pedestrian streets and bike lanes that invite exploration. The city has been given the nickname, 'Venice of the North', because of its more than 100 canals. The city is very easy to explore by foot, bike or boat. Because of the city's modern and progressive attitude, we forget that it has ancient roots, and that there are beautifully preserved examples of 17th century architecture scattered all across the city.
Attractions: Koninklijk Paleis, Begijnhof, De wallen, Anne Frank House, Van Gogh Museum, Rijksmuseum, and the canals of Amsterdam.
Why Go: Amsterdam is perhaps best known for its naughty side, the red light district. Peepshows and "special" coffee shops have made Amsterdam famous in the mainstream media. But Amsterdam's biggest attractions are its museums. The most famous of which are the Rijksmuseum, Stedelijk Museum and Van Gogh Museum, but there are many more that are waiting to be explored. From the city's colourful flower markets, fine art museums, "special" coffee shops to the red light district, there's something unique and exciting for everyone to discover in Amsterdam.
Moscow
Moscow is the most surprising name on this list by a long shot. 5.4 Million People travelled to the Russian capital last year, despite the political tensions that exist between Russia and the West. Old Soviet era factories and warehouses have been turned into edgy art galleries. Foodies have transformed old grimy bars and nightclubs into modern trendy hangouts. Moscow has always been a haven for history buffs. The towers of the Kremlin indicate the founding site of Moscow and the monuments and churches stand as memorials for the fallen heroes and victorious battles of the mighty Russian Army.
Attractions: Moscow Kremlin, Red Square, Saint Basil's Cathedral, Bolshoi Theatre, Lenin's Mausoleum, Tretyakov Gallery and the Kremlin Armoury.
Why Go: Its good value for money! The economic sanctions imposed by the West, and low oil price mean that the Russian Ruble is not as strong as it was a year or two ago. Russia's capital is experiencing a burst of creative energy. This creative energy is being used to form a new identity for the new Russia by the new generation, who are trying to break away from the shackles of the old imperial empire, communism and the Soviet Union. All over the city new bars, galleries and restaurants are popping up, all of them created to challenge the norm. But the unique history and impressive architecture are still what attracts most people to Moscow. If you are interested in something different, then Moscow should be on your list.
Barcelona
Barcelona, situated between the ocean and the mountains, is a melting pot of old and new, a city with one foot in the old Catalan world, and one in the new avant-garde world. Barcelona is the most cosmopolitan, modern and avant-garde city in Spain. It is the only real beach city on this list, which makes it Europe's most popular beach city by default. The people of Barcelona will tell you that they live in Catalonia, not Spain. Catalonia is an autonomous community that was once independent from Spain, and Barcelona is its capital city. That makes the customs, food, drink, architecture and traditions of Barcelona different  to that of the rest of Spain.
Attractions: Casa Batllo, Casa Milà, La Rambla, Sagrada Familia, Parc Guëll, Font Màgica and Montjuïc.
Why Go: Where to start? Well, it has just about everything any holidaymaker could desire. Easy access to the city, a Mediterranean climate, long sandy beaches, beautiful mountains, a trendy nightlife, world class restaurants and bars, and it's rich in culture and history. You will be hard pressed to find a list of the world's top 10 beach or food cities that does not include Barcelona. Variety is the word in Barcelona, whether you want to laze on the beach, soak up some history, go bar hopping, go shopping, stroll through fresh food markets, taste great food or see priceless works of art, Barcelona has it all.
Milan
Along with being one of the leading fashion capitals of world, Milan is also one of the world's most important cultural destinations – the world famous Teatro alla Scala is situated here. All of history's most prolific opera singers have performed here over the past 200 years. Leonardo da Vinci lived in Milan for 17 years, painting one of his and the world's most famous works of art, The Last Supper while in residence. Milan is where the modern and ancient worlds fuse together.
Attractions: Milan Cathedral, Teatro alla Scala, Santa Maria delle Grazie (The Last Supper), Naviglio Grande, Piazza Mercanti and the Sforzesco Castle.
Why go: People go to Milan for three reasons, to see the Last Supper, the Duomo di Milano (Milan Cathedral) and lastly, for the fashion shows. Italy's most famous lake, Lake Como, is situated only an hour from Milan. Because of the city's close proximity to Lake Como, and Italy's other great lakes, many people use Milan as a base to go out and explore them. Milan will always live in the shadow of Italy's more famous destinations like Rome, Venice and Florence, but if you haven't seen the Milan Cathedral or The Last Supper, then you haven't experienced all that Italy has to offer.
Prague
Prague, the "city of a thousand spires", has fast become one of Europe's most popular tourist destinations. This city of bridges, gold-tipped towers, cathedrals and church domes, has stood the test of time for over 10 centuries. Undamaged by World War 2, Prague's medieval centre of cobbled streets, gothic cathedrals, walled courtyards and church spires has stayed largely unchanged for centuries. The city's main attraction, the majestic 9th century Prague Castle, towers over the city. Prague is also a modern and vibrant city full of energy, art, music and fine dining that will keep even the most discerning travellers happy.
Attractions: Prague Castle, Prague's astronomical clock, Old Town Square, Charles Bridge, Mala Strana, Tyn Church and the dancing house.
Why Go: Prague is both one of the most beautiful and one of the most unique cities in all of Europe. The historical centre of Prague has been on UNESCO's list of World Heritage Sites since 1992. Around almost every corner there are beautifully preserved examples of Gothic, Bohemian and Renaissance styles of architecture. Prague can match Paris for beauty, but it is considerably cheaper to travel to. It also has the best beer in all of Europe and that's surely reason enough to start planning a trip to Prague today.
Rome
Rome is perhaps the only city in the world that every single traveller has on their Top 10 must visit list. The Eternal City has and probably always will be on the annual list of the 10 most visited cities in the world. Just over 8.6 million people were privileged enough to visit Rome last year. Those who have had the privilege will surely be asking, why only 8.6 million? Every corner of this ancient city has a story to tell. Rome is where gladiators fought and died, Emperors walked the streets, Leonardo da Vinci and Michelangelo, two of history's most famous artists, created the world's most famous works of art, and where they still reside today, the art not the artists.
Attractions: The Colosseum, Trevi Fountain, Spanish Steps, Vatican, Sistine Chapel, St Peter's Basilica, Pantheon, Roman Forum, Piazza Navona and Palatine Hill, to name just a few.
Why go: Where do we start? Rome has it all: great food, a rich history, beautiful architecture, priceless works of art and world renowned cultural landmarks, all within walking distance of each other. There are many reasons why one should travel to Rome, but the main reason must surely be the history. Rome was the capital of the Western World for almost 500 years. During this period the Romans invented concrete, aqueducts, newspapers, bound books and highways. The buildings, landmarks, monuments and fountains weren't only built to serve a purpose; they were also built to stand as a symbol of the strength and the power of the Roman Empire. Rome is more than just a city and a tourist destination. It's a time machine, in Rome history is all around you. The question should not be why go to Rome, but rather, why not go?
Istanbul
It came as a surprise to some when Istanbul was named the Top Tourist Destination in the World by Tripadvisor in 2014. But those who have walked the city's ancient streets and explored the world famous Grand Bazaar, certainly won't be surprised. The city has experience a massive spike in tourist numbers over the last couple of years, receiving 10.4 million visitors last year alone. Istanbul is Turkey's cultural, economic, and historical hub. The city is known as a transcontinental city because it is located in both Europe and Asia. The Bosphorus Strait divides the city in two and it also acts as the boundary between Asia and Europe. The European side is where the commercial and historical centre is located, and that is why we have included Istanbul on this list.
Attractions: The Sultan Ahmed Mosque (Blue Mosque), Galata Tower, Topkapi Palace, Aya Sofya and the Basilica Cistern.
Why go: Istanbul has over 2500 years of history, tradition and culture, which are accompanied by breath-taking views, world renowned landmarks and amazing food. At different times in its history the city has been the imperial capital of four empires: the Roman Empire (330-395), Byzantine Empire (395-1204), Latin Empire (1204-1261), the Second Byzantine Empire (1261-1453) and the Ottoman Empire (1453-1922). The remains of each of these empires can still be witnessed in the architecture, food, statues and landmarks across the city. This transcontinental city is a fast-paced cultural melting pot that you simply cannot afford to miss.
Paris
As the capital city of France, the country that receives the most international visitors almost every year, Paris was always going to be on this list. It has been among the top two most visited cities in the world for the last 10 years. Most people were quite surprised that Paris was edged out of the top spot by London. The city received a total of 15.2 million travellers last year, compared to London's 16.7 million.  Affectionately known as "the city of lights" and "the city of love," Paris is today, as it has been for hundreds of years, one of the world's leading centres for fashion, business, entertainment, art and culture.
Attractions: Eiffel Tower, Louvre, Arc de Triomphe, Notre Dame Cathedral, Sacre-Coeur, Musee d'Orsay, Sainte-Chapelle and the Luxembourg Gardens.  
Why Go: Paris is an art, fashion and gastronomic mecca of the world and it is arguably the world's most cosmopolitan city. For honeymooners and couples seeking an ultra-romantic getaway, Paris is the ultimate destination. Teeming with art galleries, opera houses, cinemas and theatres, Paris entertains like no other city in the world. Parisian nightlife includes bars filled with smoke and wine, dance halls, nightclubs and upper-class establishments like the world renowned Ritz Paris. The city has more Michelin Star restaurants than any other city in Europe, which makes Paris the fine dining capital of Europe. Just imagine snacking on a baguette and sipping a heavy French wine, while staring at the Eiffel Tower, that's it, I'm booking my ticket today.
London
It came as somewhat of a surprise to many that London, a city that received a staggering 16.7 million international visitors last year, was the most visited city in Europe. But when you start looking at what the city offers visitors, you start to understand why so many people chose to travel to London. The city was the headquarters of the British Empire, the largest empire in history, for 346 years. People from all over the old empire immigrated to the city, bringing their customs along with them, which is why today London is the most multicultural city in the world. London is a global leader of fashion, culture, finance, politics and trade. The wealth the city accumulated through their vast empire was used to build impressive castles, churches, cathedrals and palaces that have all been well preserved. In London, as in Rome, history is all around you, all you need to do is look for it.
Attractions: Westminster Abbey, Buckingham Palace, British Museum, Tower Bridge, Big Ben, Tower of London and St. Paul's Cathedral.
Why Go: Food, history, variety, shopping and sport are some the reasons people travel to London. Westminster Abbey is perhaps one of the most fascinating places to visit in London. It is where the likes of Dickens, Darwin and Newton, some of the most incredible minds in history, are buried. It is also where almost all of the royal weddings are held, and where the King or Queen's coronation is held. There are just too many London attractions to list. One can spend a week exploring the city, and still not have enough time to see everything. To borrow something from Elvis Presley, 16, 7 million people can't be wrong. London is the most visited city in Europe for a reason; start planning your trip today to find out why.