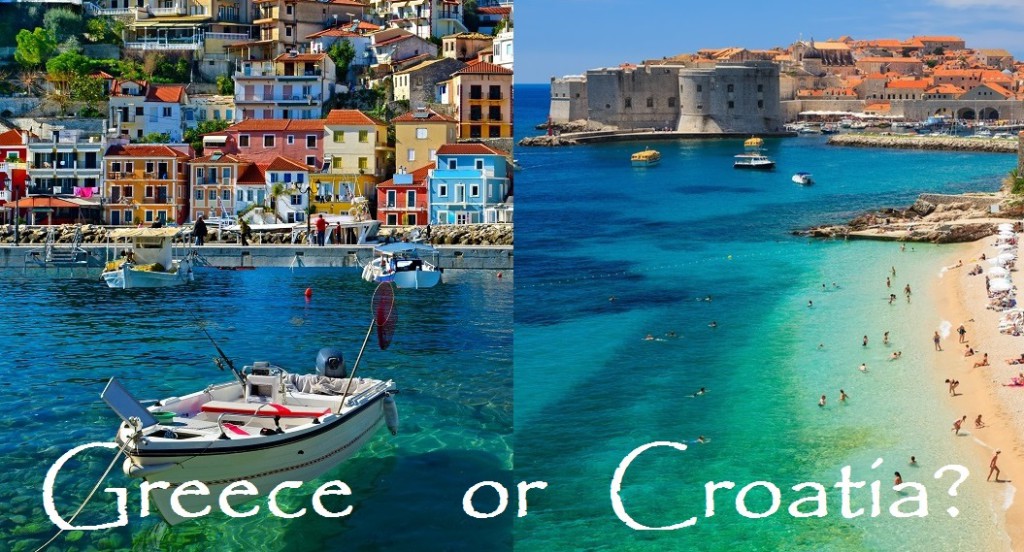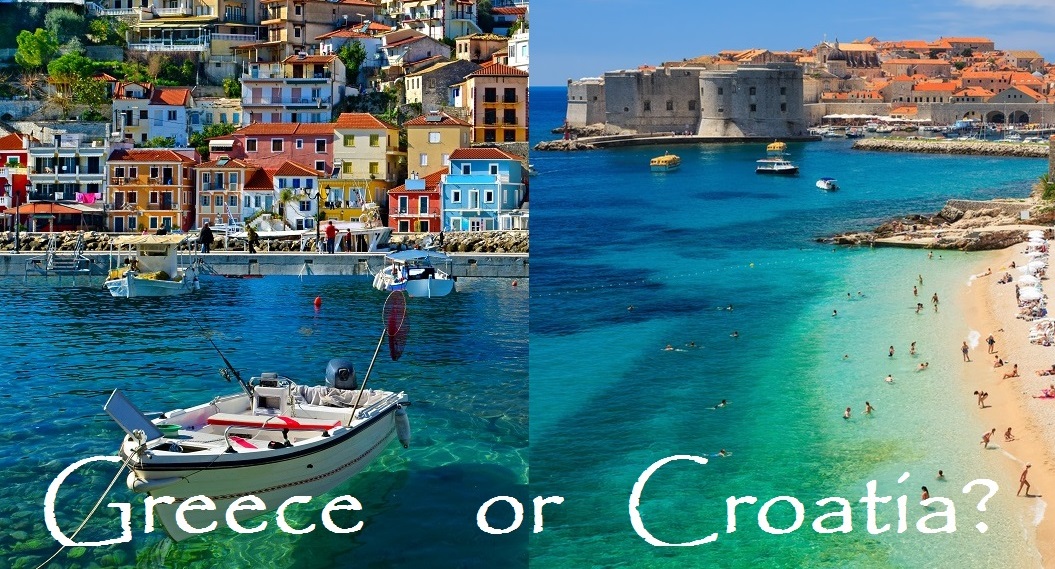 It's always difficult to decide where to travel to next. First you need to decide what kind of holiday you want to go on. Should you spend a week on a tropical island lazing on the beach, take the time to explore an ancient European city, or do you want to spend time in the bush searching for the Big 5?
In 2015 after numerous travellers asked us for advice on whether they should travel to Italy or France for their summer holiday, we wrote a blog, "Italy or France: Which destination is right for you?", to help travellers answer the question in the title. Fast forward to the present, and after receiving similar questions to those we received in 2015, only for different destinations, we've written a similar blog for travellers seeking advice on whether to travel to Croatia or Greece.
Europe's hottest new destination is Croatia. The Eastern European country has seen an influx of tourism over the last couple of years, as you'll see in the text below it's not difficult to see why.  Greece has been the go-to destination for sailing and island hopper holidays for decades. The clear waters, history, good food and friendly locals have kept travellers coming back for years. Let's look at which destination would be right for you!
Sailing the Islands
Croatia: Korčula, Hvar, Vis, Mljet, Brač, Cres, Adriatic Sea, Dalmatian Islands, Korcula, Stari Grad and Primosten.
VS
Greece: Ionian Sea, Santorini, Mykonos, Crete, Skiathos, Corfu, Paros, Ios, Kos, Skopelos and Aegean Sea.
Verdict: Greece has been one of the top sailing destination in Europe for decades. The weather is pristine, there are ample amounts of itineraries and routes to choose from, and the nightlife is always pumping. Croatia has recently been upgrading many of their tourist harbours to accommodate more yachts with water and electricity services while docked. The islands along Croatia's coast aren't very far from each other. This means that you can spend more time anchored in a bay, swimming and discovering a new island, because the sailing time to your next overnight destination is relatively short. Croatia and Greece have similar climates, their islands are equally as beautiful, and the waters are as clear in Santorini as in Hvar. Greece however has more islands to visit and more sailing routes to choose from than Croatia. But, in Croatia you won't see many large resorts or cruise liners and it's easier to find an authentic experience. It's too close to call, you'll have to decide whether you want a more authentic experience, or if you want a wider variety of routes and islands you'd like to visit. It's a tie!
---
History
Croatia: Pula Arena, Diocletian's Palace, Nikola Tesla, Dubrovnik Cathedral, Klis Fortress, Walls of Dubrovnik, Fort Lovrijenac and Cathedral of Saint Domnius.
VS
Greece: Acropolis, Parthenon, National Archaeological Museum of Athens, Alexander the Great, Aristotle, Socrates and the Temple of Poseidon.
Verdict: Not many countries have such a rich and influential history as Greece. The country that gave us democracy, mythology, theatre and the Olympics has played a major role in shaping western civilization into what it is today. In Athens you can visit the Parthenon atop of the Acropolis, the ancient citadel that has been inhabited for over 2500 years. Croatia's most famous historical export is Nikola Tesla. The inventor and engineer invented remote control technology, holds the first patent for the radio, invented the induction motor and the Tesla coil. Dubrovnik is not only one of Europe's most beautiful cities, but it's also full of history and culture. The ancient city and its walls, built to protect the vulnerable coastal city in the 14th century, is so well preserved that it is used as a filming location in the hit television series Game of Thrones. Croatia and Greece both have historical attractions that every traveller should visit at least once in their lifetime. But I think we can all agree that Greece is the destination of choice between the two for history buffs.
---
Cuisine
Croatia: Peka, Lamb on the Spit, Octopus Salad, Cevapi, Fresh Fish on the Grill, black risotto, Zagorski Strukli, Shepard's stew and Brudet.
VS
Greece: Moussaka, Grilled meats, Octopus, Baklava, Gyros, Spanakopita, Dolmathakia, Souvlaki, Tzatziki, Keftethes, Kataifi and Greek salad.
Verdict: Croatian cuisine has Mediterranean and eastern European influences. Paprika is the main ingredient in many of the country's most popular dishes. The cuisine on mainland Croatia has both Hungarian and Turkish influence, while dishes in coastal areas are more similar to Greek and Roman cuisine.
Greek food is one of the most popular cuisines in the world. Every self-respecting restaurant around the world serves a Greek salad, and every city around the world has a local Greek restaurant. Grilled and stuffed octopus is one of the most popular dishes on the islands. Gyros is a popular lunchtime snack. The dish consists of vertical rotisserie meat, usually chicken or pork, French fries, onion, tomato and tzatziki wrapped in a pita bread. At around €2.50 a pop, it's also very affordable.
Greece might have the edge in the food department, but Croatia definitely has the edge in the wine department. Croatia produces some of the best white wines in the world. With over 300 geographically defined wine regions in Croatia, you can imagine that they take their wines seriously. At the end of the day it comes down to personal taste. If you like food that is similar to South African cuisine, then you'll love Greek food. If you'd like to try something different and unique, while sipping on some of the best wines of the world, then Croatia is where you should be!
---
Architecture
Croatia: Church of St Francis, Dubrovnik Cathedral, Palace of Diocletian, Trakošćan Castle, Cathedral of Sv. Jakov and the Euphrasia Basilica.
VS
Greece: Achilleion Palace, the Temple of Poseidon, Plaka, Syntagma Square, The Acropolis, The Parthenon and Temple of Hephaestus.
Verdict: Greece is home to some of the most famous and historically important buildings in the world. Ancient Greek architecture is known predominantly for its open air theatres and temples. The most famous of these are the Parthenon (temple) and the Odeon of Herodes Atticus (theatre), both are situated on the Acropolis of Athens. Because of their age, the vast majority of Greece's ancient buildings have fallen to ruins, and because of the dire financial situation in Greece, funding for the upkeep of these buildings has been in short supply.
Croatia's old towns have been very well preserved. There are examples of Romanesque, Gothic, Renaissance and Baroque architecture in Croatia. The country's best preserved Roman architectural remains are the Diocletian's Palace in Spilt, and the Roman amphitheatre in Pula. The backstreets and ancient courtyards of Split, Korcula and Dubrovnik have an old world charm that one rarely still encounters in Europe's larger cities. Croatia pips Greece in this category. The main reason for its victory is that the country's buildings and monuments are so well preserved. Greek buildings and monuments have a longer and arguably more significant history, but most of these temples and monuments have fallen into ruin. Croatia's old towns are among the best preserved and most beautiful cities in Europe. Croatia takes it by a nose.
---
Top Trumps
Croatia: Good value, Dubrovnik, World Class wines, Culture and it's still relatively unspoilt and quiet.
VS
Greece: Santorini sunsets, ancient history, the islands, the best beaches in Europe and the Acropolis of Athens.
The Final Verdict: After compiling this list, it's easy to see why so many people find it difficult to decide which country to go to. It all comes down to taste and interest. One needs to decide which of the abovementioned categories are more important to you, and make your decision based on your interests and travel needs. Greece has more UNESCO World Heritage Sites than Croatia (18 vs 8), so you'll be able to tick off more "bucket list" locations in Greece. Croatia offers good value, it is still relatively unspoiled and it's certainly less busy than Greece. First time travellers would perhaps enjoy Greece more as it is easier to travel through, the history is more relatable and the food is just exquisite. Croatia is best for those travellers seeking a new and exciting destination to discover and experience something unique. Once you've walked around the old town's walls and dined in the ancient squares in old town Dubrovnik, you'll understand what the famous play writer George Shaw meant when he said; "Those who seek paradise on earth should come and see Dubrovnik".