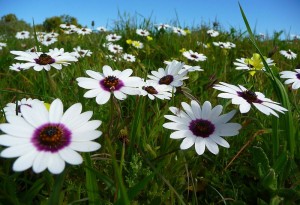 Spring is a wonderful season for nature lovers thinking of going on holiday to the Western Cape.  After months of rain during the wintertime, never-ending fields of wild flowers burst into colour as they start to bloom.
The Flower Route extends all the way from the West Coast National Park in Langebaan to Springbok in the Northern Cape.  Experts recommend that visitors travel from north to south because the blossoms will always face the sun.  The Flower Route stretches on for kilometres and it's up to your budget on how much of this incredible experience you can savour during your trip.
The West Coast National Park
First stop is the West Coast National Park, which is situated along the tranquil waters of the Langebaan Lagoon.  The West Coast National Park is a firm favourite among locals who want to catch a quick glimpse of the colourful wild flowers blossoming, because it is located the closest to the city.  The park is home to a diverse selection of bird life, but is best known for its vast carpets of colourful blossoms in springtime.
Darling
The charismatic little town of Darling is the proud host of the annual Wildflower Show that is held in September each year.  The wild flowers are the stars of the show, but it is also worthwhile to explore the beautiful meadows, orchards and vineyards as well as the quaint coffee shops and old-fashioned farm stalls during your stay.
Namaqualand
Namaqualand is a very harsh landscape, but as soon as spring arrives the natural rewards are ample.  This dry, barren terrain is transformed into a rainbow filled paradise where the wild flowers are the most striking when they turn into an artistic fantasy. Springbok is the biggest town in the area and a great base to rest your head after exploring the Richtersveld National Park, the Namaqua National Park or the Orange River.
Clanwilliam
Enjoy a glorious drive through the countryside filled with wild spring flowers as far as the eye can see.  Clanwilliam is the doorway to both the Cederberg Mountains and the West Coast National Park with a choice of routes through to Langebaan or the mountains.  It is possible to catch a quick preview of blossoming wild flowers during a day trip from Cape Town, but if you want to experience this spectacular event in its full glory you are going to need a bit more time.