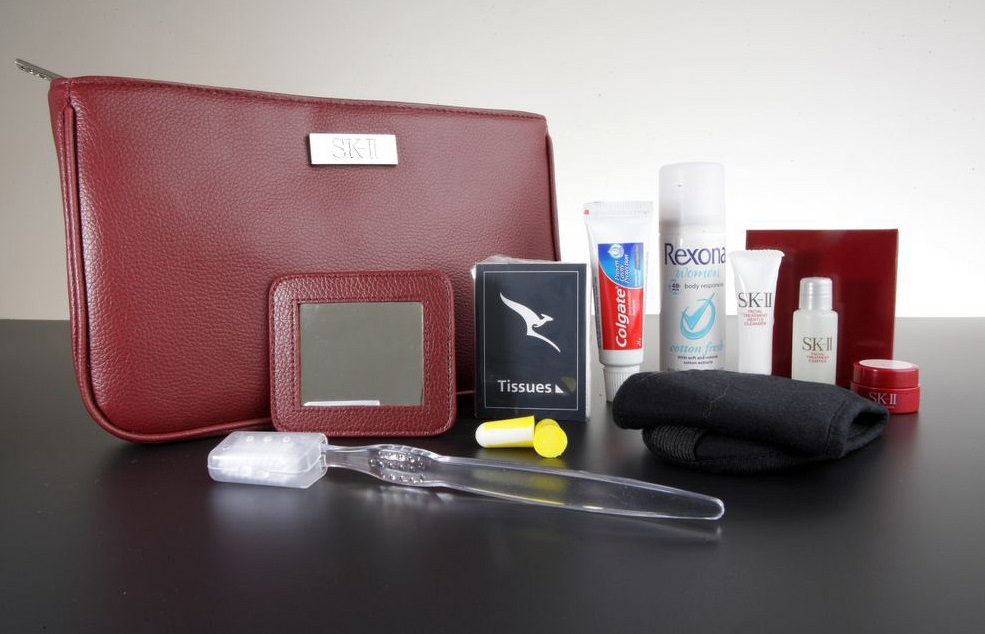 Perhaps the most luxurious of them all, the Qantas first class amenity kit includes the luxurious SK-II range (widely known as the most expensive skin care range) in both the male and female kits.
Although relatively small the sample size moisturiser, cleanser and renowned Facial Treatment Essence should be enough to keep your skin hydrated on long haul flights.  Other bonuses include an antiperspirant spray, a standard dental care kit and handbag mirror for females.
The leather looking bags are some of the most attractive ones available. The female one could even double as a clutch in a pinch (branding is discreet) and the men's one isn't too bad either.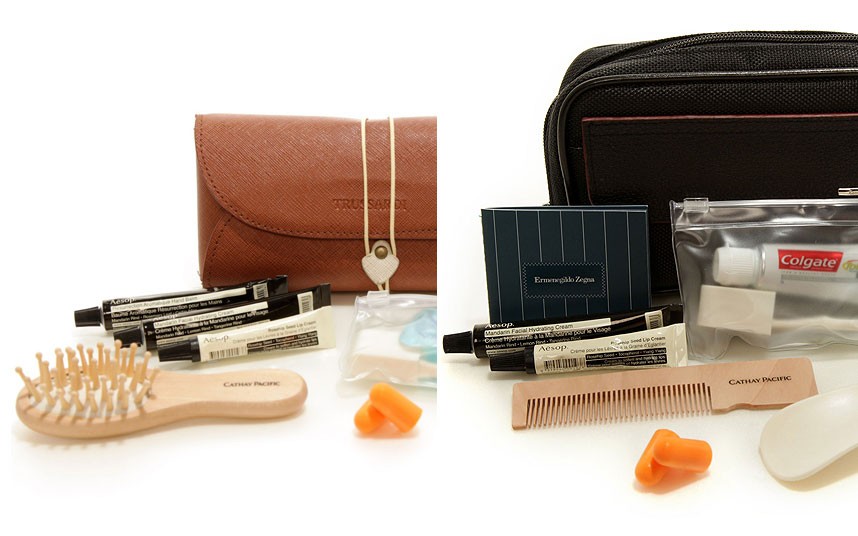 The Australian brand Aesop provides Cathay Pacific amenity kits with some of the most trendy skin care essentials.
The female kits include a hand and body balm, facial hydrating cream, facial toner, lip balm, dental kit with mouthwash, a wooden hair brush, cotton pads and ear plugs.
The male kits include just the facial hydrating cream and lip balm with other extras like a shoe horn and wooden comb. The standard ear plugs and dental kit with mouthwash is also included.
The female Trussardi pouch is made from a stylish fake brown leather and can be re-purposed afterwards for jewellery storage. The male pouch is a nondescript black pouch.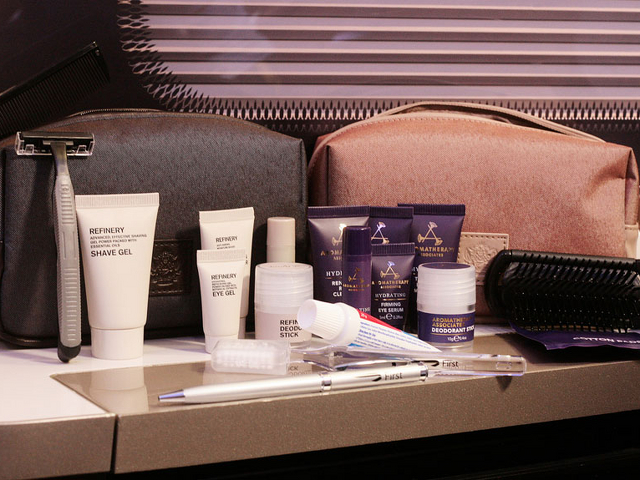 Recently given an overhaul, the sensible Anja Hindmarch bags have been replaced by two soft bags filled with new products tailored to the needs of men and women.
Aromatherapy Associates is the official product provider for the female kits which includes the delicate rose moisturiser and cleanser, firming eye cream and delicately scented hand cream. The female kit also includes a deodorant stick, lip balm stick, cotton wool pad, toothbrush, toothpaste and combined Hairbrush and mirror.
The male kit includes a moisturiser, eye gel and shaving gel from The Refinery. The kit also contains a lip balm stick, deodorant stick, razor, brush and comb, toothbrush, toothpaste and pen.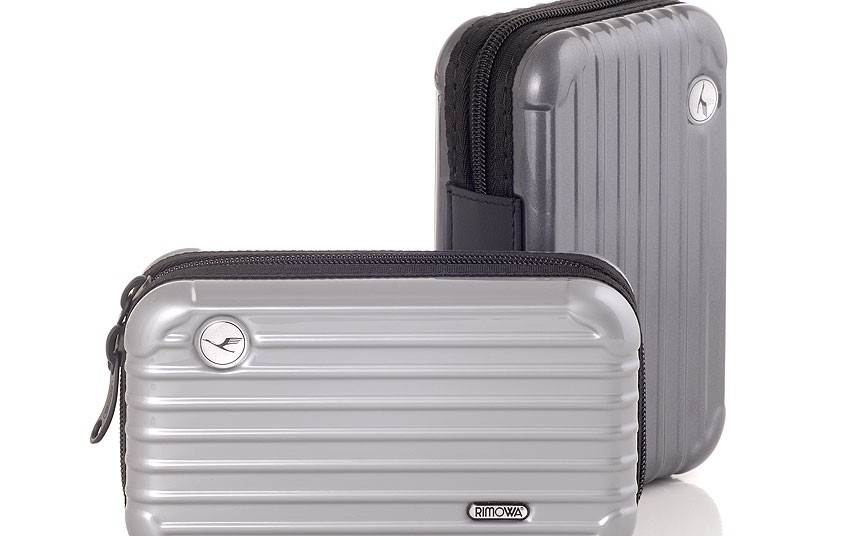 In true German style, the Lufthansa amenity kit feels practical rather than luxurious. Don't be fooled however as this suit-case style case packs all the essentials for a long-haul flight and is ideal for travelling with smaller electronics later on.
La Mer provides female passengers with a super moisturising cream and lip balm. Other practical items include a dental hygiene kit, folding hairbrush and earplugs.
Male passengers get Lamarin 24 hour cream, headphone covers, a shoe horn, a dental hygiene kit, a hair brush and a comb.
The Rimowa case is a surprisingly useful item to have, especially if you travel frequently.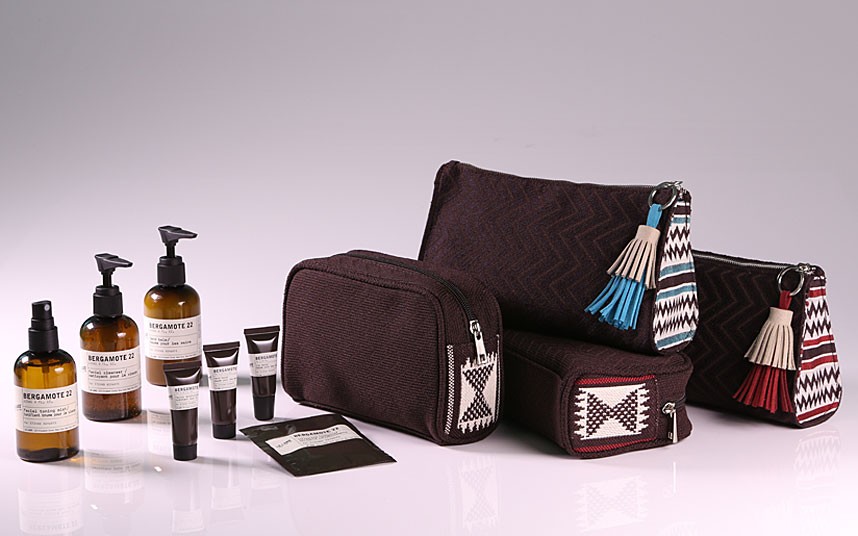 The much celebrated ethically sustainable bag by Sougha, aiming to preserve Emerati traditions and promote local artisans, might not be one the most stylish offering out there but it does have a positive social impact and contains some luxurious Le Labo products that will meet all your in-flight beauty needs.
The female kits include a Le Labo hand balm, lip balm, moisturiser and refreshing towelette as well as a care kit with cotton buds, pads and emery board (no more snagged nails).
The Le Lab omens kit includes Le Labo hand balm, moisturser, lip balm and towelette and a care kit with a razor, shaving cream and mints. The fragrance might be a little strong for most men, but it is to be expected from a French fragrance brand.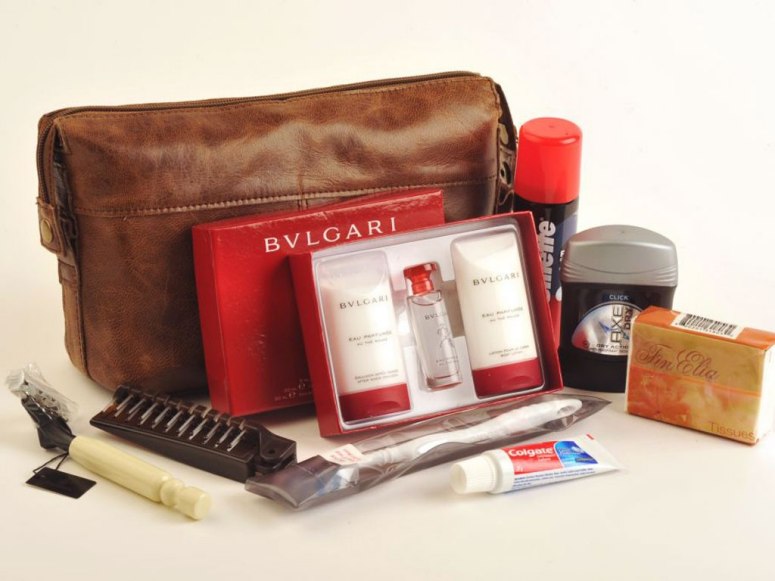 Honourable mention has to go to Emirates for the mini Bvlgari fragrance sets. The male leather bag is also one the most stylish out there.