According to Skytrax, the world authority on all things pertaining to airline excellence, the following airlines are the leaders when it comes to offering a superlative first-class flying experience:
1. Singapore Airlines A380 seats:
The seats are contained in cubicles with higher sides for added privacy, are 35 inches wide, luxuriously upholstered and include an exclusive turn down service.  The luxurious Book-A-Cook service allows you to order your gourmet meals in advance online.  This the first time, since 2008, that Etihad Airlines has been pipped at the post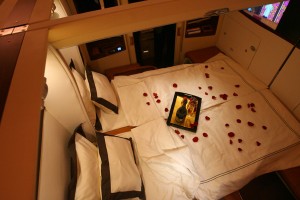 2. Etihad Airlines New seats
The new Etihad Diamond First Class seats rotate 180 degrees and feature adjustable headrests, footrest, lumbar support and inbuilt massage.  The seats transform into a 6ft 8" flatbed.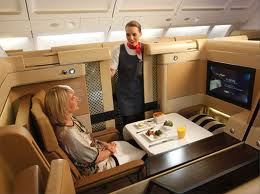 3. Emirates A380 seats:
Emirates offer an on-board shower spa, private suites and on-board lounges for socializing and stretching your legs.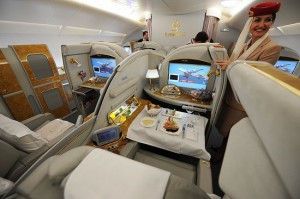 4. Qantas
Sheepskin mattresses, duvets, ergonomic pillows and lumbar controls come with these sleeper beds.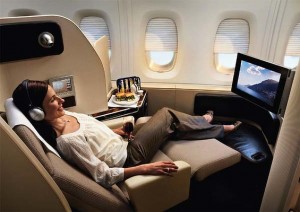 Private wardrobes and electronic blinds are features of first-class on BA.
With only 6 to 9 first class suites on board, Cathy Pacific offers personal attention and made to order dining, featuring a range Asian and international delicacies.  Passengers can choose from over 100 movies, 500 TV shows and 22 radio stations in 20 languages to enjoy on their personal screens.
You can expect to dine on caviar, lobster, Arabic mezzas, fine chocolate, excellent wines, champagnes and ten course meals when flying with Qatar.
8. Jet Airways
Although Jet Airways seating is pretty standard first-class, their exceptional attention to detail, outstanding service and delicious food put them in the Top Ten.
Turkish Airlines have only recently started offering First-class flights, so it is quite an achievement to be listed in the Top Ten.  Once again it is their service and catering that puts them here
10. ANA
Air mattresses and Angle Float pillows ensure maximum comfort on ANA flights and the delicious novelty of fresh Japanese cuisine adds to the experience on this cost-effective airline.