London's Heathrow Airport has been undergoing a massive transformation and renovations on terminal 2 dedicated to over 23 STAR Alliance airlines and it is finally near completion. It will be partially operational from 4 June 2014 with plans to introduce the remaining STAR Alliance airlines over the following five months.
The new Heathrow terminal 2 named The Queen will replace the previous terminal two and offer the latest in comfort for passengers. Designed by Luis Vidal and Architects their aim is to improve passenger experience down to the details like lighting.
The terminal will include a free personal shopping service (sign up ahead of time at heathrow.com), free pre-flight treatments from luxury brands like Jo Malone and Crème de la Mer, two Michelin starred dining options, more entertainment for families, intuitive way finding and over 62 restaurants and exclusive UK brands including the first John Lewis store to open in an airport. Check-ins are also simplified with quick and easy self-service kiosks and sixty check-in desks and multiple service desks that will adapt to the traffic.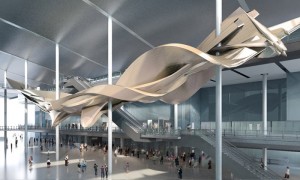 No new airport renovation will be complete without an elaborate artwork. Slipstream, a monumental sculpture designed by competition winner Richard Wilson RA, is the longest permanent sculpture in Europe and covers the entire length of the terminal courtyard.  The flowing and twisting aluminium structure is meant as a metaphor for travel.
Aside from these superficial changes the terminal also promises quicker connections as it is now arranged according to alliance meaning your connecting flight will most likely depart from the same terminal you arrived in. If London is your final destination the new Heathrow Express connection to Paddington station will take you to the city centre in 15 minutes. This allows you to spend more time enjoying the terminal as part of your trip.
The new terminal 2 will be opened in stages from 4 June and SAA will join in on the action from 10 October 2014. So jump on it and book your SAA flights to London to experience the new terminal for yourself!