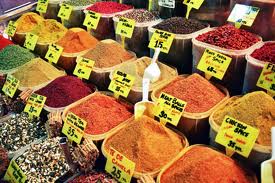 Travelling heightens all your senses as you're ready to experience new sights, smells and tastes. It's no surprise then that we often choose to travel to countries with which cuisines we are familiar. The most obvious foodie destinations include European favourites like Italy and France but if you're looking to broaden your horizon or simply want to know what you have to eat on your next visit to an unconventional food destination then this is a must-read.
1. Brazil: Pastels
Brazil has a variety of dishes on offer but perhaps one of the most palatable for Westernised taste buds is the pastel, something between a pie and a spring roll with a thin pastry envelope that is deep fried with an assortment of fillings. It is a popular fast-food dish and can be found all over Brazil on the streets and in Pastelarias. Sweet toothed visitors can stock up on dolce de leche of Portuguese origin which is a sweet treat similar to caramel syrup.
2. Mexico: Taco
Mexican cuisine is dominated by spicy peppers, chillies and incorporates a lot of corn.  Tacos are made from corn tortillas and can have a variety of fillings. It is often accompanied by garnishes such as salsa, avocado, cilantro tomatoes, minced meat, onions and lettuce. Other popular meals include quesadillas and tortas.
3. Argentina: Asado
Known for their heavily beef based diet, Argentines enjoy their beef cuts barbecued, something we can get on board with! An Argentine beef barbeque or asado usually comprises of a large quantity chargrilled beef accompanied by a variety of salads and served with a glass of red wine so dig in! If offal makes you a little squeamish then skip the embutidos which are cow intestines coal-heated and served as appetizers.
Take a look at our amazing central and south American travel packages to experience this for yourself.
4.  Indonesia: Nasi Goreng
Indonesian cuisine is most notably influenced by Chinese and Indian culture. This spicy Indonesian dish literally translates to 'fried rice' and simply refers to stir fried rice typically flavoured with sweet soy sauce, garlic, shallot, tamarind and chilli. It is typically served with egg and chicken or prawns. Satays, skewered meats, are also popular and easy to enjoy as a fast food.
5. India: Butter Chicken
The samosa is the most popular choice for tourists visiting India as it's something you're most likely familiar with, but if you're looking for something unique yet not too hot try Butter Chicken (murgh makhani). It is usually served on a naan or roti and is traditionally made from boned chicken spiced with garam masala, ginger, garlic paste, lemon or lime, pepper, coriander, cumin, turmeric and chili in a creamy tomato sauce.
 6. Japan: Ramen
Sushi lovers probably associate Japan with this popular treat but Japan also has many other weird and wonderful meals to offer including fermented fish (best avoided), tempura shrimp and ramen. The increasingly popular ramen is significantly different to the well-known microwavable noodles we all grew up with. Japanese ramen consists of noodles served in a fish or meat broth topped with meat, vegetables, miso and occasionally seaweed. Salt and soy sauce can typically be found on the table so you can flavour your own broth.
7. Turkey: Dolma
Vegetarians will love Turkish cuisine as the popular dolma is completely meat free. Either fresh or dried peppers, zucchini or eggplants are stuffed with rice, onions and various spices.  Other meat free dishes include Taze Fasulye and Yaprak Sarma, but if you're looking for something sweeter you simply can't miss their baklava.
8. Greece: Eggplant Moussaka
With a distinct Mediterranean cuisine featuring eggplants, olives, zucchini, cheeses and lamb and goat by-products it should come as no surprise that Moussaka is one of their most popular dishes. Moussaka closely resembles a lasagne but instead of pasta, meat and a béchamel sauce it has layers of eggplant and ground meat and is then covered in a savoury custard before being browned in the oven.
9. Croatia: Zagrebački odrezak
The Italian influence is quite strong in Croatia although each region does have its own distinct culinary tradition. One of the best dishes to try is their variant on classic cordon bleu made from chicken breasts or veal stuffed with ham and cheese and grilled in bread crumbs. You'll find that they also have a strong coffee culture and many small ice-cream shops selling frozen desserts, non-alcoholic drinks and pastries.
10. Thailand: Pad Thai
With various influences including Chinese it should come as no surprise that one of Thailand's most popular dishes is a noodle based one. Pad Thai a stir-fried rice noodle dish with eggs and chopped firm tofu flavoured with tamarind pulp, fish sauce, dried shrimp, garlic or shallots, red chili pepper and palm sugar, and served with lime wedges and often chopped roast peanuts. This meal makes the best of the Thai food philosophy of balancing sweet, salt, sour and bitter elements to create a deliciously complex meal.
Visit flightsite.com to book your trip to any one of these destinations and let us know which is your favourite unconventional food destination!