We have looked at some interesting Easter traditions and celebrations from around the world this week and also suggested some fun activities and events for our readers to enjoy all around South Africa. A little spanner might have been thrown into the works of some of our fellow travellers by a South African National Parks (SANParks) announcement this week that might disrupt some itineraries.
South African National Parks this week announced that they have been forced to initiate quotas at all the gates of the Kruger National Park. This will control the number of day visitors that will be permitted to enter the park between Thursday, 17 to Monday, 21 April 2014. Overnight guests of campsites, hotels and lodges need not worry because about this quota as they receive a different pass than that of day visitors.
The quota is calculated on a first-come-first-served basis and people are encouraged to be at the gates early to avoid disappointment. Pre-booking your entrance with the central reservations office on telephone number 012 428 9111, will ensure that you will not be showed away at the gates after the quota has been filled. These pre-booked ticket holders are expected to pay a non-refundable deposit of R32 per adult and R16 per child while making your advanced booking and you must enter the gates before 13H00 or risk losing your ticket. All other rules of the park like the ban on liquor and the need to show your identity document at the gate still apply.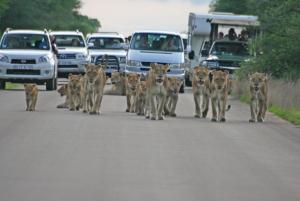 The question that arises is why have they waited to this late a stage to release a statement regarding the quotas? People travel from all over South African to Kruger or the outskirts of Kruger to visit family and friends over Easter and families camp in private campsites or stay in B&B's/guesthouses just outside Kruger planning day visits into our biggest national park. You may ask why they then do not check for availability regarding day passes for the park, while some do most don't as numbers are not really an issue for most of the year and SANparks do not put emphasis on one having to pre book your day pass throughout the year.
To their credit SANParks has come up with an alternative for day visitors who arrive after the quota has been met. Those day visitors who are unable to gain entry into the park can for an extra fee make use of the park and ride facilities at some gates. This entails leaving your car at the gate and entering the park on some sort of a game viewing vehicle provided by the park.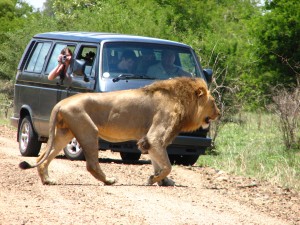 These park and ride facilities must have been planned a while ago as SANParks should know where and how their resources like vehicles, game rangers and general staff will be used well in advance to plan accordingly. If one makes the assumption that this had been planned well in advance then one has to question the timing of SANPark in letting the public know about these quotas, only two days before the start of the implementation of the quotas did they release a statement informing the public of this situation.
Telephone lines at SANParks are either running off the hook with people trying to pre-book day passes or many people are going to be disappointed when they are turned down at the gate. Better communication would have been appreciated from SANParks by the public and I am sure by some travel agents as well. I do hope that all travellers that have made plans to enter the Kruger do get to do so and that they enjoy this national treasure.
To check out some of our Kruger trips click, here