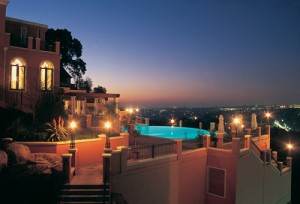 There may not be many new hotel openings on the go in Southern Africa during May and June 2013, but there are some exciting developments taking place in the hotel industry.  The Westcliff has been sold to a joint venture partnership between Dubai-based Albwardy Investment and Singapore-based Hotels Properties Limited. Four Seasons will be taking over the reins from Orient Express
in June and a massive refurbishment is planned upon takeover and should be complete towards the end of the year. Exciting stuff, but one wonders how much better this award-winning hotel can get?  As it is, The Westcliff is one of the first 300 hotels to receive the Tablet Hotels Selection Awards, which is reserved for only the very best hotels worldwide.
The Protea hotel Sea Point will also be undergoing a refurbishment from June and will reopen on 31 August with new furniture and fittings. Another opening for August is the Cape Verde, set to be Africa's greenest hotel, which will feature all the latest eco-friendly innovations.  City Lodge is planning to open another 20 hotels over the next 10 years to add to the recent opening of their Gaborone site.  Already well-established in South Africa, Tsogo Sun also operates Southern Sun and StayEasy hotels in Mozambique and Tanzania and continues to expand into Africa. Peermont, with three hotels in Botswana and several in South Africa, will "continue to investigate hotel and casino projects in Southern Africa" according to CEO, Anthony Puttergill. Starwood Hotels and Resorts Worldwide continues the African trend with plans to triple its presence on the continent by 2020.
With that said it seems that June was just a quiet month for Southern African hotel 'openings' and we can look forward to many in the future.