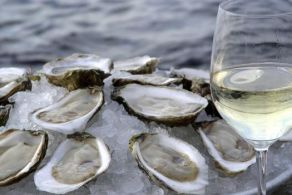 "… and as I drank their cold liquid from each shell and washed it down with the crisp taste of the wine, I lost the empty feeling and began to be happy and to make plans." Ernest Hemingway, 'A Moveable Feast'
The Pick 'n Pay Knysna Oyster Festival which runs from June 28th to July 7th attracts thousands of visitors each year, some claiming the same sense of passion as Hemingway's when it comes to the eating of oysters.  As much as oysters are the main attraction for festival goers, over 100 different events are planned for this year.  The oyster eating and oyster shucking competitions are a highlight each year and this year it will be held in conjunction with The Oyster Shuckle hosted by Nic Rabinowitz.
New events make this one of the largest family and lifestyle events of the year.  The Women's Walk hosted by the Pink Drive has been added to the line-up – this 5km walk is open to men if they wear pink!  Also new is an exciting ten day market where you can browse to your heart's content, through fresh produce, local arts and crafts for souvenirs.
Kids and young adults are highly entertained every year, dubbed The Young Oyster Festival, the list of activities to keep them busy ranges from arts and crafts, movie screenings, cooking competitions, to a skate park where competitions will be held, and sports clinics for young enthusiasts.  The Miss Knysna Oyster Festival is also sure to draw the crowds.
The event ensures that people can not only enjoy their oysters raw with a squeeze of lemon and a shake of Tabasco, but are also exposed to a myriad of other ways oysters can be prepared and enjoyed.  Participating restaurants are invited to offer up their most innovative recipes of both raw and cooked oysters to the public as well as to judges who vote for their favourite in the Pick 'n Pay Flavours of Knysna event.  As a popular seaside destination, there are a numerous accommodation options on offer.  For more
information visit the festival website. http://www.oysterfestival.co.za/