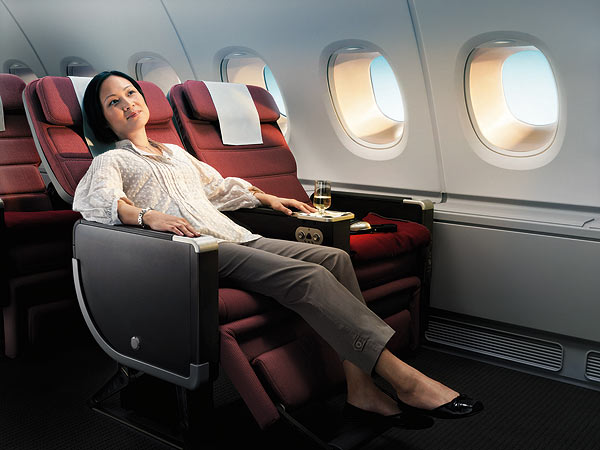 Ever wonder whether Premium Economy Class is worth the hype – and more importantly – your hard earned cash? It is one of the most frequently asked traveller questions and armed with the information below, you'll be able to answer this for yourself. Below you'll find everything you need to know about Premium Economy Class.
What does Premium Economy class entail?
Premium Economy Class breaches the gap between Economy and Business Class in terms of comfort, cost and service.
Virgin Atlantic was the first airline to introduce this class as a service aimed at the cost-conscious business traveller, who wants to travel comfortably, but also cut unnecessary expenses. Several other airlines now also offer this service, including Cathay Pacific, Qantas, British Airways, Air New Zealand and Air France. Unfortunately the Middle Eastern airlines like Qatar, Etihad and Emirates does not offer a Premium Economy Class service.
Whilst each airline's Premium Economy offering differs, you can generally expect to find more room, premium food services and a seat that accommodates comfortable sleep. 
We've listed some of the benefits of Premium Economy class seats on various airlines:
Qantas offers Premium Economy passengers priority boarding and disembarkation, a complimentary glass of champagne before departure, in-seat power outlets and comfortable seats that can recline 50% further than traditional economy seats with a footrest. Passengers will also be able to enjoy the specially created Premium Class menu before snuggling up with a comfort kit and cosy bedding.
The British airline offers Pemium passengers comfortable seats that are wider, with more legroom and that can recline further. Technological advances include  larger entertainment screens and in-seat power outlets. Passengers also receive a special amenity kit and can check up to two bags into the hold. Don't forget about the premium dining experience.
Cathcay Pacific allows all their Premium passengers more baggage and provides a dedicated check-in counter and priority boarding and disembarkation. The airline also notes that the separate cabin means that you won't be bothered by other travellers. Passengers will receive a special amenity kit, a welcoming glass of champagne and premium food services on board. More leg room and a footrests ensures a comfortable flight whilst a bigger monitor and multi-connector on their entertainment centres make longer flights more bearable.
Virgin Atlantic makes their Premium passengers feel special with dedicated cabin crew members and seperate toilets, premium meals served on crockery with metal cutlery, a comfortable leather seat with lumbar support, an extra 2 degrees of recline, increased seat width and dual position footrest. The in-seat power outlets will allow business travellers to charge their laptops and dedicated check-in, priority boarding and baggage claim allow for a speedy boarding and exit strategy.
Pricing
Premium Economy tickets can cost you up to three times as much as a standard economy ticket and is sometimes only marginally cheaper than a Business Class seat.  Usually you'll find that Premium Economy airfares close the gap between Economy and Business Class seats.
For example: Johannesburg – New York
Economy Class – R10 117*
Premium Economy Class – R24 090*
Business Class – R38, 127*
*These are the cheapest flights available on same date with different airlines. Prices were checked on off-peak dates at least 4 months ahead of time. Please note that this is only an example and that these exact fares won't necessarily be available.
Upgrades
Most airlines offer three ways for ticket holders to secure an upgrade. You can eithers upgrade and pay the difference in airfare before your flight, upgrade before the flight and pay for it with your Frequent Traveller Programme points or make use of last-minute special offers (either through online bidding or enquiring and paying at the airport).
It is important to bear in mind that not all Economy Class tickets can be upgraded and that some airlines will only allow you to upgrade one class, so for example if you have booked an Economy class ticket you can only upgrade to Premium Economy Class and not Business Class. Cathay Pacific (check out how awesome their amenity kits are!) recently adopted this model.
Conclusion
If you can upgrade to Premium Economy Class either using your miles or at a discounted fee, we can highly recommend it! Premium Economy Class seats are more comfortable than Economy Class seats and the food service is of a higher quality.
If however you are feeling flush or want to travel in luxury we'd rather suggest Business Class as it does offer you more value for money. Plus nothing beats getting to sleep in a lie-flat on that red-eye!
If you've got any unanswered questions regarding Premium Economy Class or travel in general, feel free to ask and we'll get one of our experienced travel agents to answer you!