The beauty of the French countryside is best appreciated like fine wine – it should be savoured slowly, and preferably complemented by good company and outstanding cuisine.  Barge trips in France offer you this opportunity.  When you charter a barge in France, you get to experience pastoral France one bite at a time with serene country scenes drifting by, quaint villages to visit and tranquillity all around.
You can charter a barge with a group of friends, or go solo and meet new friends; single supplements are available on most barges.  The cruises are  with an attentive crew on board who will go out their way to ensure your comfort and well-being.  You can expect the finest cuisine accompanied by the perfect wine, and cheese to complete your meal.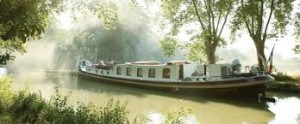 Typically, hotel barges in France feature private cabins with bath, all meals with wine, an open bar, escorted excursions and airport transfers.  Some barges offer half-board, giving you the opportunity to nip into one of the local inns for lunch every day.  Others have a plunge pool on board or bicycles to explore the nooks and crannies of the neighbourhood.  The boats moor in a different destination every night, so you can enjoy a night out in the nearest village or at a country restaurant if you choose.
Historically, these were all working barges, which have been beautifully restored and pressed into service for your enjoyment.  You will feel like you have been transported to a previous era of luxury in your own floating villa.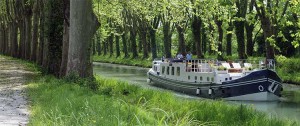 The main routes for barge cruising in France are in Burgundy, Alsace, Normandy, Champagne, Provence and the Canal du Midi).  Specialist wine routes are available on some barges and the Nivernais and Briare Canals in the Burgundy region are known for their beauty and serenity.