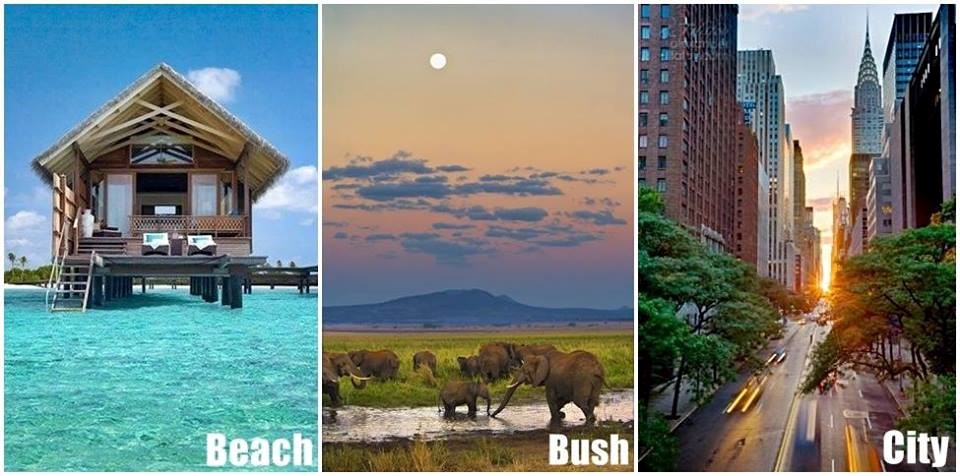 Picking a holiday destination can be quite tricky. Everyone wants something different from a holiday. Some want to relax, while others want adventure. There are so many different destinations around the world to choose from, that you might just get a little overwhelmed when you start planning your next trip. As you know we are all about making travel easy. That is why I have compared three popular options, the city, the bush and the beach with each other, to figure out which destination will suit you best.


History, tradition, culture, art, architecture and food, is what visiting a city is all about. What's the best thing about city travel? Sitting at a sidewalk café in an ancient city, sipping on a coffee while watching the locals go about their daily business. Or it could be shopping on the high streets of Paris or Los Angeles. Perhaps it's because cities are where you can actually see and experience history, by visiting the Vatican in Rome, or the Abraham Lincoln Memorial in Washington DC. Whatever it may be, there is something in every city for everyone to savour, and there is a city for everyone to fall in love with.
Best cities to visit: New York, London, Rome, Barcelona, Florence, Hong Kong, Cape Town, Amsterdam, New Orleans, Vienna and San Francisco.
The advantages of city travel:
Concentration of History and Culture: History and culture is very concentrated in cities. In a city like Rome for instance, you can see a number of historically significant attractions in one street. Situated at the top of Rome's most fashionable bustling street, the Via dei Condotti is the house where Guglielmo Marconi, inventor of the radio, lived. Sip a coffee at Café Greco, Rome's oldest café, which first opened its doors in 1760, and at the very bottom of the road you can sit on the Spanish Steps, one of Europe's most popular historical attractions. That's a lot of history in one street.
Variety: Cities have variety like no other destination. For example, in London you can savour an English breakfast in the morning, walk around and see historical British Imperial Palaces and statues of South African generals and politicians like Jan Smuts and Nelson Mandela. For lunch you can appreciate an authentic Indian meal, after which you can admire ancient artefacts from all over the globe at the British Museum. For dinner, enjoy Japanese sushi, before heading out to a Rolling Stones concert. All of these things can be done on the same day in one place, now that's what I call variety. 
Ease of booking: It's very easy to book a holiday in a city. Accommodation in the form of hotels, B&B's, hostels, backpackers and apartments are available around every corner. The internet has made it easy to book accommodation at the last minute. Cities are also easily accessible. Airports are usually situated close to a city, public transport is almost always available to shuttle you to and from the airport, metro, ferry to your hotel. And once you are in the city, everything is within walking distance, and if not then public transport or taxis are available twenty four hours a day.
The challenges of city travel:
Overwhelming: City vacations can be a little overwhelming. In most cities there are so many things to see and do that you often find yourself running from one landmark to the next to fit it all in. It can therefore be quite stressful to go on a city vacation, but there is no need for it to be overwhelming if you plan ahead. On average people spend two to three nights in one city before moving on to the next, which is never enough time. You therefore need to plan carefully what specifically you'd like to see and do, and leave enough time for wandering around. Those spontaneous moments when you are wandering around in a new city, is when you get to experience its true atmosphere.
Overcrowding: Cities can also be very crowded. London for instance received 16.7 million tourists last year and Paris 15.2 million, that's quite a lot of people with whom to share a city. But again the key is to plan ahead. By buying museum access tickets online, before leaving home, you get to skip the long queues, which will save you a lot of time. Get up early and see the monuments and landmarks that you want to see first thing in the morning, while most of the city's tourists are still having breakfast. You will then have the whole day open to explore the city's backstreets where the true character of every city resides.
Costly and Time Consuming: For South Africans to travel to cities in Europe, the United States and Asia is very time consuming. We have to put two days aside for travel, one day there and one day back. When you arrive you are also usually tired after the long flight. But if you catch an evening flight to Europe for instance, you can sleep on the plane and arrive in the early hours of the next morning. The weak state of the rand against the dollar, pound and euro makes it quite expensive to travel to popular European and American cities. Booking well ahead of your planned holiday is therefore essential, because that is when you will get the best flight and accommodation deals. Those are the only two things that are unavoidable when going on a city holiday, long travel times and high costs.

There is something spiritual about being in the bush. The silence, raw beauty, remoteness and tranquillity of the bush are things that we don't get to experience in our fast paced day to day lives anymore. The bush also gives you the opportunity to switch off completely from the trappings of the modern world. In most bush destinations there is no cell phone signal and no Wi-Fi, which means that no one from the office will be able to contact you while you're on holiday. Each destination has something completely unique and extraordinary to offer. In Kenya and Tanzania you can experience the great wildebeest migration, one of the biggest animal migrations on earth. In Botswana you can see lions swimming in the world's largest inland delta and UNESCO's newest world heritage site, the Okavango Delta. The list goes on and on. Nature never ceases to amaze even the most well-travelled individual.
Best safari destinations: Chobe National Park – Botswana, Kruger National Park – South Africa, Moremi National Park – Botswana, Masai Mara National Reserve – Kenya, Etosha National Park – Namibia, Zambezi Valley – Zambia and Serengeti National Park – Tanzania.
The advantages of a bush holiday:
Excitement: Natural destinations are without a doubt the most exciting and diverse destinations on earth. You never know what is going to pop up around the next corner. There could be a lion kill, wild dogs mating, pangolin crossing the road, or black mambas sailing around looking for lunch, in which case you should back up as fast as you can. The experience of driving on the back of a game drive vehicle is more exciting than lying on the beach or walking through a city.
Perspective: Sitting on the back of a Land Cruiser, watching a pride of lions pull down a buffalo is one of the most humbling and exciting experiences on earth. Nature makes us modest, and it makes us realise that we are part of something much bigger. Your problems suddenly seem less significant, and easier to conquer and that is what we are all looking at getting out of a holiday, a little perspective. You recharge, gain some perspective, refocus and head back home with renewed energy.
Nature and Wildlife: Seeing the weird and wonderful creatures that live in the bush, is what makes a bush holiday so exciting and unique. Buffalo, elephant, lion, leopard and rhino, also known as the Big 5, are the first animals you look for when you head for the bush. The big 5 used to be a hunting reference to the 5 most dangerous animals that you can hunt in Africa, but now it is used to attract people to the bush. Once you've seen the big five your attention will shift to the more elusive, and in my opinion, more fascinating aspects of the bush. Aardvark, pangolin, black-footed cat and wild dog are some of the more elusive animals in Africa, seeing one of these animals is very rare and very special. But what is more fascinating is learning how each living organism is vital to the ecological wellbeing of the environment. Along with being fascinated by the beauty of the bush and its creatures, you get to learn something new every day. For example, kudus eat from a specific tree during the dry season, which has a bitter taste that they don't necessarily like. When they eat from the tree their meat turns very bitter, which in turn keeps predators away. Now how would I have known that if I had not gone on a bush holiday?
It's Easy: All you need to do is book your holiday, and someone else will take care of everything once you arrive. Breakfast, lunch and dinner will be made by hotel or lodge staff, drinks will be poured by the bartender, rooms will be cleaned by housekeepers and game drive vehicles will be driven by guides. All of the usual stresses of making food, driving around and cleaning up will be taken care off, all you need to do is show up and enjoy yourself.
The challanges of a bush holiday:
Restrictive: The remoteness of a bush holiday can count against it. When you are in the bush there is no other option but to join in on the activities that the lodge or hotel offers its guests, or alternatively, relax at the lodge or in your room. The remoteness limits the amount of activities that a lodge can offer, you can't simply walk around and find something else to do like you can in a city for instance. But most top end bush hotels and lodges have a spa, limited WI-FI and a gym for guests to use as an alternative to their standard activities. If you are going to the bush however, you will want to be on each and every game drive because you never know what you might see. That is what makes the bush so special.
No small children: Many game lodges do not allow children under the age of twelve because they aren't enclosed, which means that wild animals can get in and young children are therefore endangered. Because young children are full of energy, they find it difficult to sit still and keep quite on the back of a game drive vehicle. So if you are a couple or a group of friends travelling together and you want to have a child free holiday, bush lodges and hotels are perfect for you.
Difficult to access: Most South African game lodges and hotels are relatively easy to get to. But in countries like Botswana and Namibia they are more remotely located. If you want to stay at lodges in the Okavango Delta in Botswana for instance, you will have to book a charter flight because the lodges aren't accessible by road. The remoteness however is what makes these locations so unique.

Beach holidays are arguably the most relaxing holidays that one can go on. White sandy beaches, crystal clear water, a cool ocean breeze and an ice cold cocktail, what can be better than that? Yes you can go on a beach holiday in South Africa if you go to Cape Town, Durban or Jeffrey's Bay, but the beach destinations we are talking about here are a little more exclusive. If you want to go on a proper beach holiday you need to head to Indian Ocean Islands, the Mediterranean or the Caribbean. That is where you will find the crystal clear waters, long sunny days and golden sandy beaches that stretch for miles. Beaches have become a symbol for relaxation, be it a crowded beach in Cape Town or a private beach in Mauritius, beach time is relaxation time. There is something about the constant pounding of water, fresh salty air and wide expanse of water that transports us into a state of tranquillity.
Best beach destinations: Zanzibar, Greek Islands, Hawaii, Rio de Janeiro, Maldives, Mauritius, Seychelles, French Riviera and Bora Bora.  
The advantages of a beach holiday:
Family friendly: Beach resorts are arguably the most family friendly resorts in the world. It doesn't matter if you have young children, teenagers or young adult children, beach resorts cater for everyone. Most resorts in Mauritius have children and teen clubs with trained employees who take care of and entertain your children while you relax poolside. The children and teen clubs aren't boring day-care facilities, oh no. These clubs are kitted with pool tables, gaming stations, cool drink and ice cream bars, food bars, cinemas and more, trust me, your children will want to spend their time here. Of course you don't have to spend all of your time apart. But as we know children get bored very easily, and these clubs will entertain them all day long. So when you do spend time together it will be stress free, quality time.
Activities: The Ocean provides you with more activities than you can imagine. You can go snorkelling, scuba diving, kite surfing, stand up paddle boarding, skiing, surfing, swimming and fishing just to name a few. All beach resorts and hotels these days offer training and equipment for you to participate in these activities. But you don't have to look only at the ocean for things to keep you busy. Almost all of the destinations listed under "beast beach destinations" have numerous land activities like golf, tennis, and local tours on offer. In the Greek Islands you can also explore ancient sites on almost any island you visit.
It's good for you: The health benefits of going on a beach holiday are endless. Sunshine is a good source of Vitamin D and studies have shown that sunshine has been shown to decrease depression. The beach is full of antiaging materials, sand naturally exfoliates and the seaweed in the ocean preserves the elasticity of the skin. Fresh seafood is also very healthy for you, as if you need a reason to indulge in the fresh fish, prawns and crayfish on offer at these beach resorts. Psychologists refer to the view over the ocean as "blue space". Research has shown that we are biologically hardwired to become more peaceful and relaxed while spending time at the "blue space".  And I for one can't argue with science.
The challanges of a beach holiday:
Costly: When you decide to go on a beach holiday, and if it is available, I would recommend that you go for the all-inclusive option. When you go for the all-inclusive option you don't have to worry about paying for anything. Everything from breakfast, lunch, dinner, drinks and snacks are included. You won't have to walk around with cash or give money to your children when they want to buy a cool drink, ice cream or pizza. But the all-inclusive option is more expensive, and getting to places like Mauritius, Greece or the Seychelles is also quite expensive. But beach holidays are always good value for money. Good value packages often include access to all of the activities listed above and more.
Commercialised:  Islands like the Seychelles, Hawaii and Mauritius have become so popular among those seeking a beach holiday, that they have become somewhat commercialised. Hotels, resorts and villas have been built on every strip of beach on most of these islands. If you are looking for a local/authentic cultural experience then a beach holiday might not be for you. But the hotels, villas and resorts that have been built are absolutely world class. That's the compromise you have to make. You will have to stay in some of the world's best hotels at a reasonable price, but the only local things that you will get to experience is the sun, sea, beach, drinks and food, not a bad compromise in my opinion.
Which is right for you?
Cities: Cities are best for young couples, small groups of friends and people travelling on their own. Once you have children it's very difficult to travel around in cities. Young people want to go somewhere they can experience the local culture, do something spontaneous and learn something new. City accommodation can also be booked cheaply even on the day of check-in, which allows you to travel spontaneously around Europe, the US and Asia. Avoid travelling in cities with a large group of friends. The reason being is that you will inevitably get into a situation where people will not want to do the same thing, and that is when conflict arises. When you are travelling in smaller groups it's easier to compromise and find consensus, which minimises the possibility of conflict. Travelling in cities is perfect for solo travellers. There are more than enough things to do to keep busy, and because there are so many people around you, will never feel alone.
Bush: The bush is great for large or small groups, couples and families with teenage children. I believe that a group of 6 – 8 people is the perfect size for a bush holiday. Game drive vehicles carry 6 – 8 people on average, so if you are up to 8 people you will get your own guide and game drive vehicle. If you want some excitement and adventure then head for the bush. Going on a game walk is one of the most thrilling and humbling experiences. If you like going on a holiday where everything is planned and arranged for you beforehand, then a bush holiday is perfect for you. Most bush lodges and hotels are difficult to access, but that makes the adventure so much more exciting. Flying on a chartered flight over the Okavango Delta and landing on your hotel's dirt strip is a once in a lifetime experience. If you are looking for an easily planned adventure that is child free, then you should head to the bush.
Beach: Total relaxation is the name of the game when you're on a beach holiday. Beach holidays are perfect for families of all ages, couples- young and old, and groups of friends travelling together, pretty much everyone will enjoy a beach holiday. Don't think that all there is to do is lie on the beach and drink, oh no. If you are adventurous, but you also want time to relax then beach resorts have been made with you in mind. You can go surfing, snorkelling, scuba diving and golfing one day, and lie around next to the pool or on the beach and sip on cocktails the next. As stated above, beach holidays are for everyone, so if you can't make your mind up on where to go on your next holiday, then head to the beach and start planning your Botswana Safari or European city hopper tour for next year.