One of the best ways to travel and to immerse oneself into the local culture of any country is to taste the food and to eat where the locals eat. South Africa is no different, we have many unique foods and dishes that has been created and influenced by the many different cultures that we have in South Africa. We have looked at some of our most unique and most delicious dishes from around South Africa, explaining how and where they originated while making your mouth drool in the process!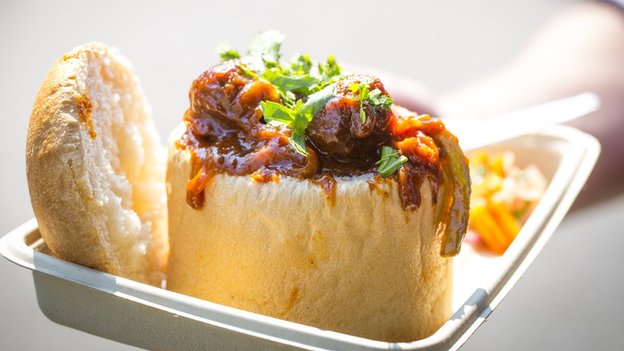 The Bunny Chow
Durban has been called the largest Indian city located outside of India. The city was once home to India's most famous son, Mahatma Gandhi who spent 21 years of his life in South Africa during which he developed his political views. Durban is now home to more overseas Indians outside of India than any other city in the world. It should then come as no surprise that curry is the staple food for Durbanites who have produced many other varieties of this humble dish over the years. The most famous of these dishes and the most unique is the Bunny Chow. This dish consists of a hollowed out bread that is filled with a curry of your choice, medium/hot or extra hot, lamb, chicken or beef whichever you like. This dish originated in the 1940's in Durban after Indian worker's needed a way to keep their lunch intact in their lunch boxes while they were out in the field working in the sugar plantations throughout Natal. The Bunny Chow has survived, evolved and flourished over the years and today you can buy a Bunny Chow around every corner throughout Durban and even South Africa. High end, fine dining restaurants in Durban are also serving Bunny Chows with an elegant twist. For the traveller who likes to eat like a local just head to the nearest corner shop or tavern in Durban and buy a traditional Bunny Chow, served in the same way that it has been served for over 70 years, sloppy and filled with copious amounts of hot curry.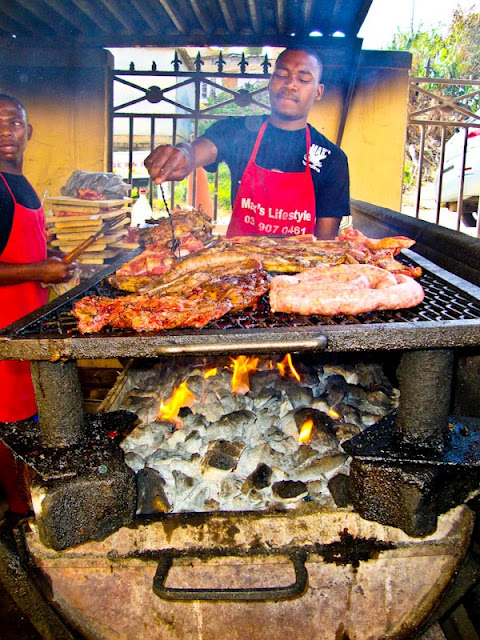 Shisa Nyama
The literal Zulu meaning of "Shisa nyama" is burnt meat but the phrase is used as a name for an informal braai or barbeque between friends in the townships throughout South Africa. People come together over weekends to watch Bafana Bafana or the Springboks playing a match or just for a good time to catch up with friends and family while they braai some big cuts of meat over hot coals. In the townships they traditionally braai their favourite meat or Inyama which is served with some Pap that is made by cooking maize meal in water until it is thick. Chakalaka, a mixture of tomatoes, chillies and onions, is thrown over the pap and when you are good and ready you dig in with your bare hands. All around South African townships Shisa nyama restaurants have been opening up and they have been a massive commercial success. People come from all around the world to eat this simple dish of pap and nyama with the township locals to soak up the energy of these vibrant communities. Restaurants like Chaf Pozi and Panyaza in Soweto, Mzoli's in Gugulethu outside of Cape Town and Amazink in Kayamandi outside of Stellenbosch are all huge commercial successes with thousands of tourists and locals frequenting these establishments every year. Spending a Saturday afternoon at any of these restaurants drinking a beer and eating some meat while experiencing the great vibe of a Shisa nyama party is something quite special.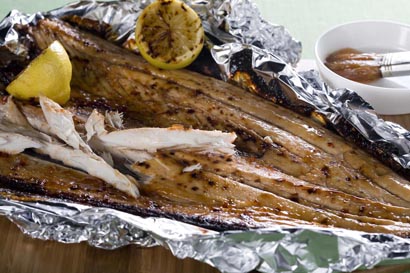 Snoek on the West Coast
Almost all of the towns on the western coast of South Africa is dependant and were built around the fishing industry. Towns like Lamberts Bay, Langebaan, Eland's Bay and Paternoster all owe their existence to the thriving fishing trade of the late 1800's and early 1900's, however because of the declining number of fish most have become tourist towns. Thyrsites atun is the fancy name for the west coast's most popular and commonly caught fish, the humble Snoek. This bony and somewhat oily fish has been the staple food for many generations of fisherman and blue collar workers throughout the west and south western coast of South Africa. The reason this fish is so popular is because it is seen by the British as a food item of deprivation as it was shipped to the north throughout the dark years of the Second World War to feed the hungry soldiers. Export demand is low which means the fish itself has never been in high demand throughout the rest of the world which kept the monetary value of the fish low. Fisherman could afford to eat the snoek they caught because selling it did not bring them much revenue which means it became the dominant item on the dinner table. Today it is seen as one of the best braaing or barbequing fish in South Africa with every household having their own unique recipe of preparing and cooking this popular fish. A snoek braai among friends at a casual braai or among colleagues at a work function has become somewhat of an institution throughout South Africa. This dish is uniquely South African just like our 11 official languages and our rainbow nation, proudly South African.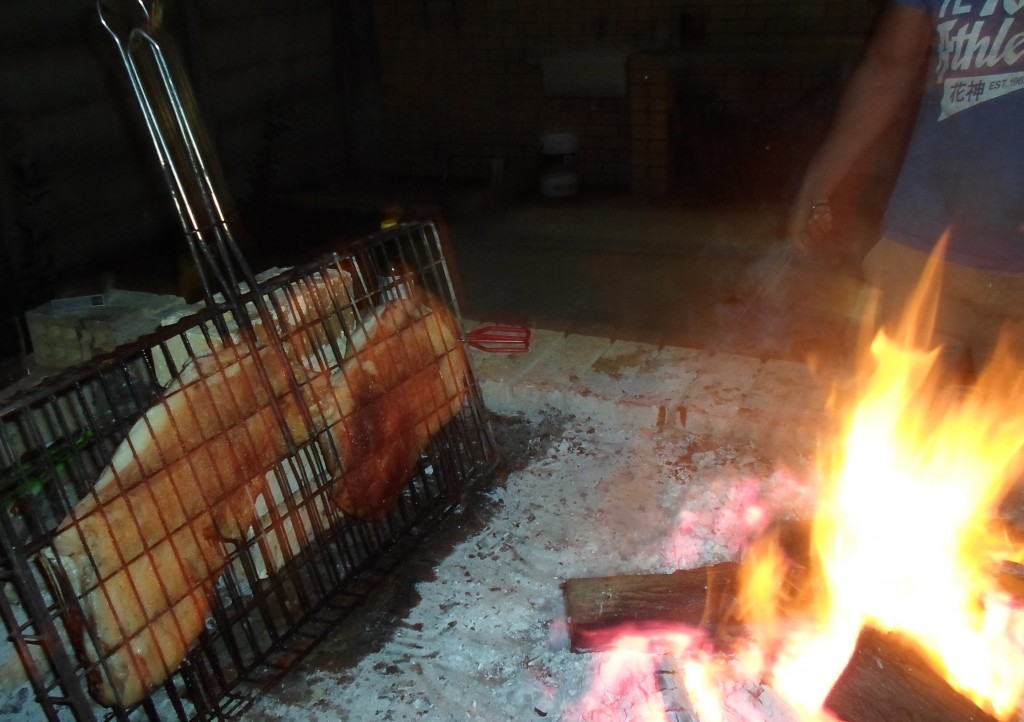 The Free State is Lamb Country
Agriculture is one of South Africa's key economic sectors and lamb or sheep farming is one of the most important and biggest industries inside that sector. The biggest concentration of sheep farmers is located in the Free State and the Northern Cape where farmers have massive farms with ample area for the animals to roam. One can then expect sheep/lamb to be the dominant protein on every plate from Colesberg to Kroonstad day in and day out. Lamb Cutlets and Lamb leg chops are the best eating cuts and they are the feature of every Friday or Saturday night braai. People had to be innovate with lamb meat because they were eating it so much they had to try new things to keep it from becoming dull. What became of this is what they call in Afrikaans "Skuins Rib" which in English means Sideways Rib. This consists of a lamb or sheep rib that is placed in a braai grid and either hanged of placed next to a flaming fire where it cooks for about 2 hours. This enables the fat that is plentiful on the rib to melt and run through the meat making it very soft and tasty. This way of cooking meat is very social as it takes a couple of hours to cook giving people the opportunity to socialise around the fire or to watch the rugby or cricket match on TV. That is what being South African is all about, socialising, braaing and watching sport, a match made in a meaty heaven!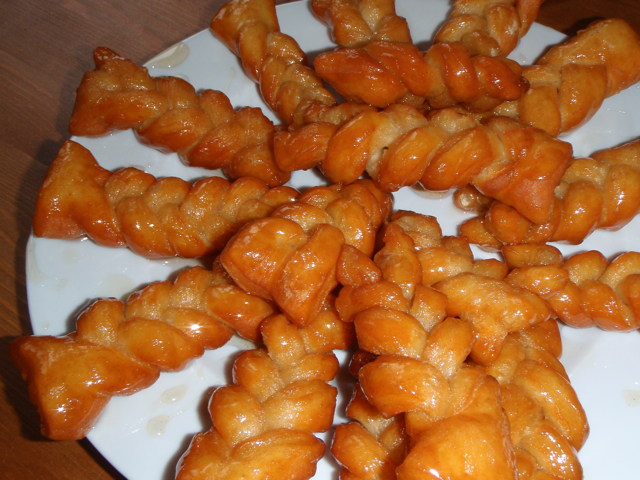 Cape Town is…….. a mixed bag!
Cape Town is the cultural mixing pot of South Africa. The city goes by many names, The Mother City, The Cape of Good Hope, The Cape of Storms and Tavern of the Seas are some of the names that has been bestowed on Cape Town over the years. South Africa is partly a country of immigrants with Europeans and Easterners coming to settle in the country from as far back as 1652 when Jan van Riebeeck and the East Indian Trading Company first staked a claim to the land underneath Table Mountain. From then on people from all around the world have settling in the Cape either because they were seeking a better life or because they were forced to. What did all of these people from around the world bring along with them? They brought along their customs and most importantly, for this article, their cuisines. Today Cape Town does not have one dish that stands out above the rest like Bunny Chow in Durban or Snoek on the West Coast. The mixture of these cultures and cuisines from all over the world has given birth to some interesting and unique dishes.
In Cape Town one will find dishes from and combinations of Chinese, Japanese, Italian, Malay, Moroccan, French, Greek, Brazilian, Portuguese, Thai and Korean food, quite a mouthful. Bobotie, Vetkoek, Koeksisters, Pickled fish, Bokkoms, Boerewors, Frikadelle, Poitjiekos and a Gatsby are some of the unique foods and dishes you can find in Cape Town and its surroundings. Each of these above mentioned dishes are popular among different cultures or regions within the greater Cape Town area but they aren't restricted to one cultural group or another. They all complement each other and they are often influenced by one another. That can also be said of the people of South Africa who are diverse but who show strength in diversity, something we as South Africans should be proud of.