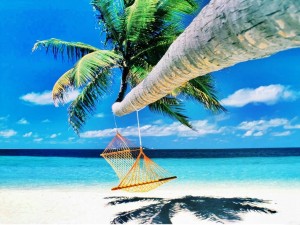 There are so many fantastic 'Fly and Flop' options to choose from amongst the hundreds of wonderful tropical islands on earth that it is difficult to single out just five, but here is this month's selection of the most popular.
The Maldives
It's all sunshine, blue skies, turquoise lagoons, tropical fish and fantastic fusion food in the Maldives, one of the worlds most sought after, and expensive, destinations. Try Embudu Village in Male for a Maldives experience that won't break the bank, but still offers on-site dining, a wellness spa, water sports and hospitable service.
Fiji
Discover perfect white sand beaches, azure waters and kaleidoscopic reefs at Castaway Island, Fiji.  This luxurious resort is situated in 174 acres of lush tropical rainforest and features every amenity your heart could desire, including scuba diving, surfing, snorkelling, surf tours, and much more.
Mauritius
The Crystals Beach Resort and Spa is a brand new addition to the luxury accommodation offerings of Palmar on the east coast of Mauritius. Set alongside 800m of pristine beachfront amongst manicured tropical gardens, Crystals Beach Resort is the ideal venue to relax on the beach or take part in popular water sports such as water-skiing, kayaking, and scuba diving.
Thailand
Thailand is famous for its jungle-topped islands that drift in clear waters fringed by dramatic limestone cliffs where the gentle waves beckon to the bather, diver and boating enthusiast. The beaches are legendary with tall palms leaning over pearly sand, coral reefs garnishing the shallow waters and golden sands overlooked by equally golden Buddha's and gleaming temples. Check in to the Cha Da, Krabi for luxurious relaxation in the midst of Ao-Nang, with views of the Andaman Sea, to best experience the charm and simplicity of this beautiful peninsula.
Seychelles
The Seychelles is a place of many delights and at Kempinski Spa you can discover its charms at your leisure. Explore secluded bays and a secret underwater world of sparkling magnificence at this glorious resort. Kempinski is the complete indulgent retreat and your gateway to all that is Seychellois.