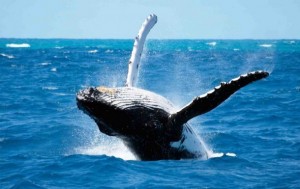 Cape Town is a fantastic location to base yourself in if you want to experience the best of the whale-watching season, as there are a number of resident cetaceans, as well as a huge selection of other magnificent species visiting during the migration period.
The warmer False Bay side of the Mother City provides wonderful opportunities for Cape Town whale watching from around the end of July until the middle of October, especially the migrating southern right whales, who travel up from Antarctica and arrive in about the middle of June.
The southern right whales spend the remainder of the winter courting, mating, calving, playing and spending some quality time with their families in the quiet bays off the South African coastline, roughly from the Cape West Coast all the way along until Port Elizabeth. The majority of the whales stay in our waters until the middle of October, while some may wait until the end of November to make their way back.
It is suggested that you invest in a pair of binoculars when going whale watching in Cape Town, whether you are taking a drive along the mountainside and stopping at the many different vantage points overlooking the ocean, or simply taking a long walk along one of the beaches. It will also be much easier to spot the whales on days where there is little to no wind.
Whales can be seen in Cape Town from the road that follows all the way along the False Bay coastline, while north of Cape Town on the Cape west coast they can be spotted from Strandfontein to Lambert's Bay, Elands Bay, St Helena, Saldanha and Ysterfontein.  The town of Hermanus on the Cape south coast is famous for some of the best land-based whale watching in the world. You will also be able to spot whales all along the south coast to Cape Agulhas and around the Cape Peninsula.  Some of the other species you can spot in South African waters and along the Cape coast include humpback, Brydes, blue, pygmy right, minke, sei, fin, sperm, beaked, killer (or orca), beluga, narwhal whale, and pilot whales, as well as porpoises and Heaviside's, dusky and common dolphins.