The trendiest burger joint in the mother of all trendy cities, the Dogs Bollocks has has been sizzling since October 2012. Dining at the Dogs Bollocks is by no means a black-tie event, but by five o'clock every evening the queue to get in is reminiscent of New York's hottest clubs.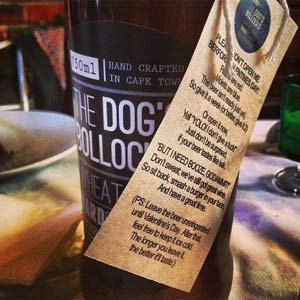 Defined as nothing more than a driveway by some, this happening diner features nothing more than a long row of wire garden furniture adorned by some rustic lampshades and a few forlorn looking cactuses. There are no tablecloths, no knives and forks, no waiters and no airs and graces.
You write your order on an old vinyl painted door with a piece of coloured chalk and wait for your name to be called. The wine list is simple; just write a' T' alongside if you would like a 'Tube'. The 'U-Tube' is a 1,5l cardboard tube filled with homemade wine and was invented by Nigel Wood, the owner of the Dog's Bollocks. It comes in two vintages – red and white and you get the use of a glass included in the price.
So what is all the fuss about – burgers, and not a lot of them. Nigel only makes 50 a night. You will find the Po Boy Plain Burger, the usual saucy burgers, a 1950's style mega slider, the Pepperberry Blue (blue cheese and piquant peppers) and the Mexican Chocolate Mole (with chocolate sauce) among the offerings scribbled on an ageing blackboard menu. Your cuisine is served wrapped in newspaper with no chips and you collect your burger from the kitchen yourself.
Ridiculous simplicity, value for money, quick service and outstanding quality have earned the Dogs Bollocks rave reviews and the word-on-the-street title of 'Best and biggest burgers in Cape Town". If you would like to find out for yourself you had best join the queue – the doors open at 5pm sharp and close after the fiftieth burger is ordered and no advance bookings are taken.