The number one tip to save on excess baggage is to plan ahead and plan carefully: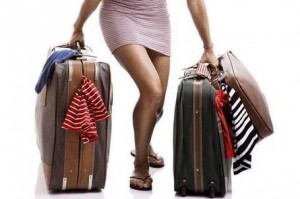 Firstly, know your weight limits and any limitations on the size of your baggage items.  You need to know the number of pieces of luggage you are allowed to take with you as well as the weight allowance for both your carry-on baggage and your checked in baggage. Check the fine print on your ticket and call the airline if you are unsure of anything.  Use the lightest bags that you can find and pack carefully – fill the space inside of shoes with underwear and socks or other small items.  Fold or roll your clothing neatly so that you can fit as much into your bag as possible.
Don't pack toiletries if you can buy small quantities at your destination, or make use of the hotel's complimentary samples on short trips.  Wear as much of your bulky clothing on the plane as you can – this may cause some suspicion at check in but it will save space in your luggage and you can always stow bulky jackets in the overhead compartment during the flight.  If you are planning a lengthy trip, it pays to pack the  minimum amount of clothing and make use of the hotel's laundry service during your stay.  This will halve the amount of clothing you need to pack.
Make use of backpacks as carry-on luggage and fill them with heavy items such as electronics and shoes, these are easy to carry on-board with you.  Weigh your bags as you pack and make adjustments.  Do not add last minute items afterwards – they could push you over the limit.  Some airlines allow you to declare and pay for extra baggage in advance, saving you time, money and the embarrassment of perhaps having to repack your bags at check-in.
Lastly, try to make use of airlines with generous baggage limits or low fees for exceeding them.  Some carriers allow you to pay a one-time baggage fee that covers an extended period if you are a frequent traveller.