Just a hop, skip and a jump from the South African coast, Madagascar is an ideal holiday spot. Located in the Indian Ocean, this island nation is a veritable hotspot of biodiversity and natural wonders. The fourth-largest island in the world, Madagascar's isolation has resulted in an astonishing variety of plants and animals that exist nowhere else on earth. Over 90 percent of its flora and fauna are endemic — a fact that has led some ecologists to call Madagascar the "eighth continent." Whether you love rare orchids, have a strong nostalgia for fishing villages, swoon over lemurs or can't wait to bask in the sun, here are seven reasons why you should take your next holiday to the island of Madagascar.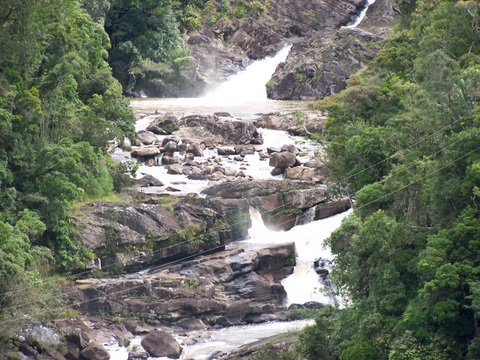 Ranomafana National Park
This national park covers over 410 square kilometres and is the home to many rare, endangered and endemic species of plant and animal. Established in 1991 to assist in Madagascar's ongoing conservation efforts, the park is part of the World Heritage Site: Rainforests of the Atsinanana. The park is made up mostly of cloud, or fog, forest — a type of moist forest made up of tropical, subtropical, montane or evergreen trees that have a consistent or seasonal low-lying cloud cover at or around the canopy. It gives the forest an almost mythical feeling. Twelve different lemur species make their home in Ranomafana National Park, and it boasts some stunning orchids. There is also lodging for tourists at the park's entrance.

Sakalava Bay
Sakalava Bay is perfect for the water-loving adventurer, and the beaches are sandy and soft if you want to laze about, too. Windsurfing and kitesurfing are popular here, but there is plenty for the nature lover to see as well. A popular nature walk from the bay to the village of Ramena will take around three hours, but it will give abundant opportunity to enjoy sunshine, flora and wildlife. Local restaurants — both in the bay and in the village — cater well to visitors and serve simple but hearty meals.

Masoala National Park
The largest protected area in all of Madagascar, Masoala National Park was created in 1997. It covers over 2,300 square kilometres of rainforest and includes three marine parks of a total 100 square kilometres, as well. The marine parks provide ample opportunities for kayaking and snorkelling, and the national park is filled to the brim with exciting fauna. Ten species of lemur live in Masoala, including the night-loving aye-aye — a lemur that bears the distinction of not only being the world's biggest nocturnal primate, but also the only other one that knocks on wood, though for a different reason than people do.

Ifaty
If you love a slow, unassuming fishing village, Ifaty has two: Mangily and Madio Rano. This is just one of many reasons to travel to Madagascar. While it's becoming an increasingly popular tourist destination, the pace is still slow and dreamy. The snorkelling here is excellent, but the beaches are rocky unless you head a bit further north. One of the highlights of this area is the Reniala Nature Reserve, which is located just east of the beach. This reserve features a beautiful forest full of baobabs — the national tree of Madagascar — and the bird watching in the forest is impressive, too.

Alley of the Baobabs
There are eight species of baobab in the world, and six of them exist in Madagascar. Called "the tree of life" and "the upside-down tree" among other things, the baobab certainly does look like it was uprooted and stuck in the ground with its leaves down and its roots high in the air. The trees are capable of storing hundreds of litres of water in their trunks to withstand dry periods, and their fruit, known as "monkey bread," is edible. The Alley of the Baobabs is a stunning and surreal place where, for almost 300 meters, giant baobabs line a dirt road, while others dot the rice paddies just beyond.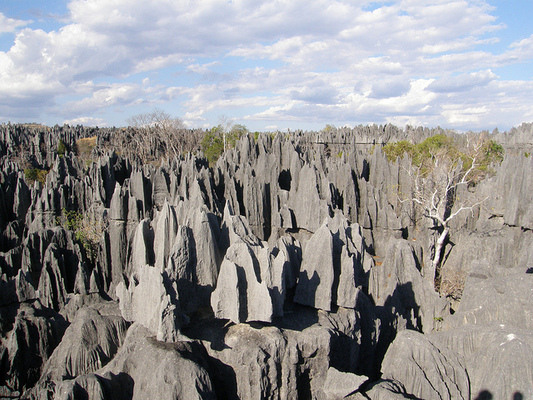 Tsingy de Bemaraha Reserve
A reserve tucked inside another reserve, Tsingy de Bemaraha is home to a strange, chalky geologic formation called "tsingy," which are limestone pinnacles that look like something out of a science fiction movie. The reserve also has large spreads of mangrove forest, and an impressive amount of wildlife: 10 lemur species, 90 bird species and eight species of reptiles, all of which are endemic to the region.
Antananrivo
The capital city of Madagascar, Antananrivo — or Tana, as it's often called — has a population of around 2 million people, and much like the plants and animals of the island, it is a city unlike any other. Colourful houses dot the hillsides. Elaborate rice paddies run throughout the town. The streets are full of cars, people and carts pulled by Zebu: very large, humped back cattle, also known as Brahman. If you want to experience an urban environment that hasn't been overly influenced by the hustle and bustle of the globe, Tana is ideal.
Take your next holiday to that large island to the northeast. From its plants and its animals to its unique landscape and capital city, there really is no place on earth like Madagascar.
Book your Madagascar Flights now, or check out our Madagascar Travel Guide here.