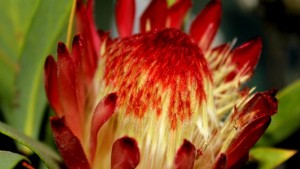 Approximately 200 kilometers north from Cape Town, between the Cedarberg Mountains and the Olifants River lies the small town of Clanwilliam.  Every year, usually during August and September, depending on the rainfall during winter, the area surrounding the town explodes with beautiful flora and is transformed into a stunning spring showcase.  The Clanwilliam Wild Flower Show is an annual 10-day event presented by the Clanwilliam Wild Flower Association in the Old Dutch Reformed Church, which aims to increase the awareness around the conservation of the many indigenous wild flower species found exclusively in the Clanwilliam area and Ramskop Nature Reserve.
The event attracts flower fanatics from all over the country, as well as international visitors and more than 360 wild flower species are exhibited.  It was initially started in 1972 and has become a standing tradition with flower lovers ever since.  This year will mark the 41st annual Clanwilliam Wildflower Show, which runs from the evening of 28 August 2013 until 8 September 2013 and will feature the beautiful kaleidoscope of different flowers that are in bloom at the time in the area.  Plus, this year for the first time there will also be an expo, which highlights the role pollinators and propagators play in helping to sustain the floral kingdom, as well as how they interact with one another.
The majority of the Clanwilliam falls within the Fynbos Biome and fynbos has been acknowledged as one of the world's six floral kingdoms. In total more than 8,500 different types have been identified and 6,000 of those are endemic to the region.  The Clanwilliam Wild Flower Show is a great country festival experience for the whole family with more on offer than just the beautiful flowers to keep visitors entertained and includes a number of outdoor activities, hiking trails and trips, live music performances, a street carnival, creative classes, art and food stalls, art competitions, as well as featuring some local beers and wines.
Entry fees cost R30 pp for adults, R25 for pensioners and R5 for children. The best time to view the flowers is between 10:30 am and 03:30 pm on warm days, as the flowers remain closed when the weather is cold and misty.  More info on this festival visit their website: www.clanwilliamflowerfestival.co.za